Most colourful places in the world
We travel to expand our visual palettes, to find (and sometimes to lose) ourselves in colourful places and what makes a place memorable are the sites we see and the things we do. As Fast Cover's signature colour is vibrant orange, we wanted to share some of the most colour places in the world, coming off the back of Pantone's Colour of the Year for 2020 which is Classic Blue.
Here is a list of the most colourful places in the world, categorised by the colours Green, Blue, Red/Orange, Pink/Purple and last, but certainly not least, Yellow. Get lost with us in these colourful places and feel free to share some colour travel pictures here.
Green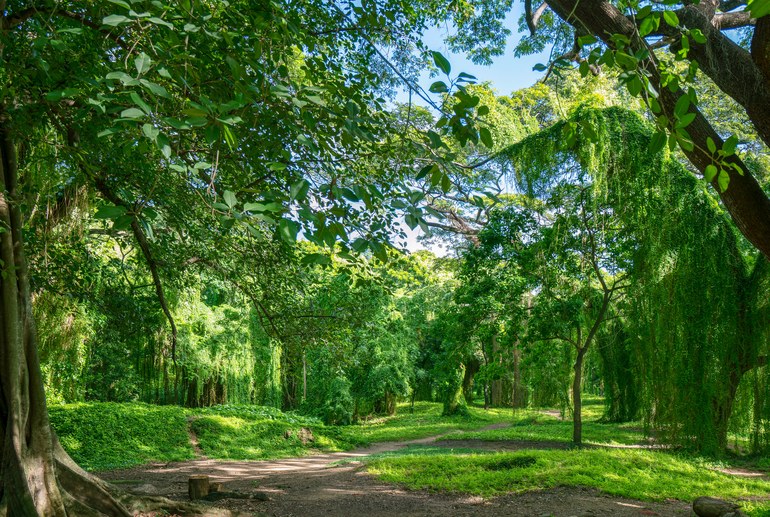 Havana Metropolitan Park, Cuba
The Havana Metropolitan Park is situated on the banks of the Almendares River, which is 700 hectares of urban forests – a rarity in the concrete-made city. Rich moss, and huge trees fill up this green forest wonderland.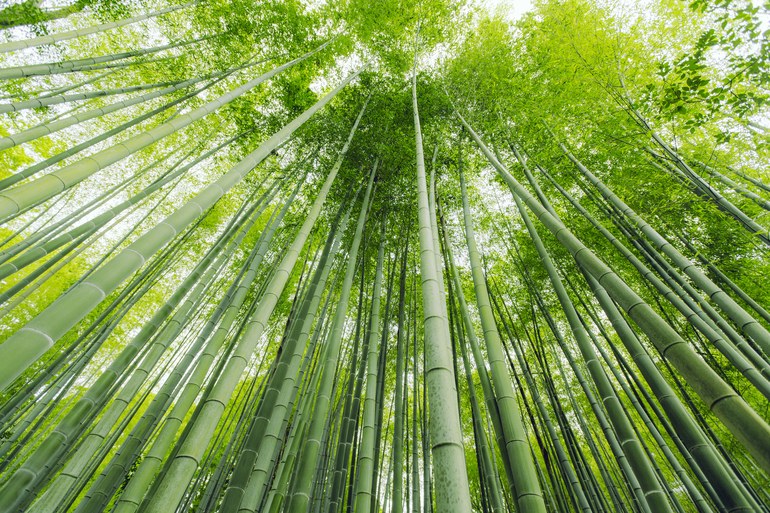 Arashiyama Bamboo Forest, Japan
The Arashiyama Bamboo Forest is found on the outskirts of Kyoto. In 1996 the Ministry of the Environment included the audio from this bamboo grove as one of the 100 Soundscapes of Japan. This area is known for its peacefulness, reminding travellers that nature can be a peaceful respite.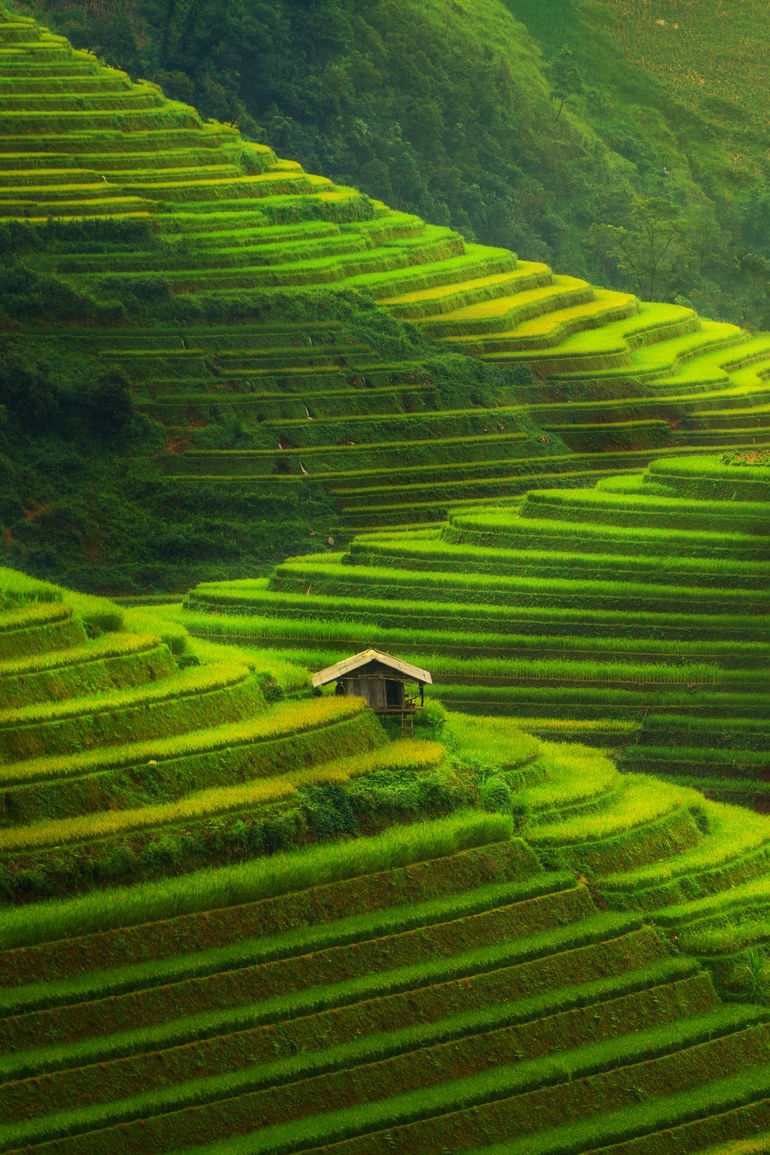 Mu Cang Chai Rice Terrace Fields, Vietnam
The Mu Cang Chai rice fields are over 175 miles northwest of Hanoi, Vietnam. These rice fields change colour from green in the late spring and summer to yellow in October as the rice ripens. These rice paddies are reaching Instagram fame for the angles and purely breathtaking symmetry in an especially tough topographical area.
Blue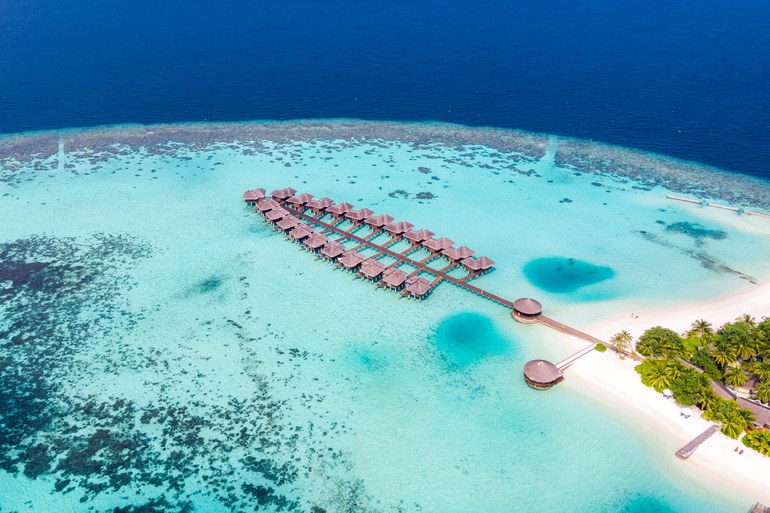 The Maldives
The Republic of the Maldives is one of the most sought-after tropical destinations in the world. This sight is known for diving sites and resorts. Known for its luxury, the country offers the perfect combination of relaxation and adventure. This is one of the places when people dream of a beach vacation, they most likely are picturing this. This is a chain of 26 atolls is more than 1000 islands in the Indian Ocean.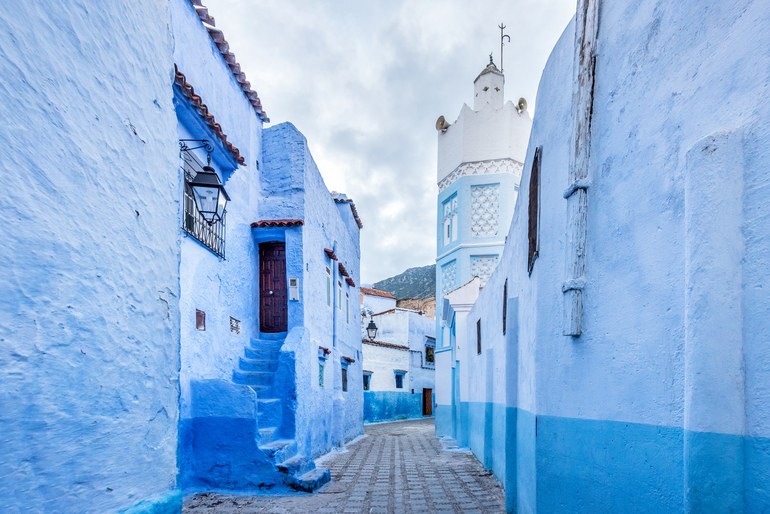 Chefchaouen, Morocco
Morocco is a land where design and mystery are all alchemised. This 15th century fortress town in the Rif Mountains is about two hours south of Tangier and still remains a tourist hotspot. All the buildings around this amazing town are the colour of dreamy sky blue; a reminder of Jewish refugees who moved to Morocco from Spain in the 1930s who wanted to reflect the divine in the painting the town blue.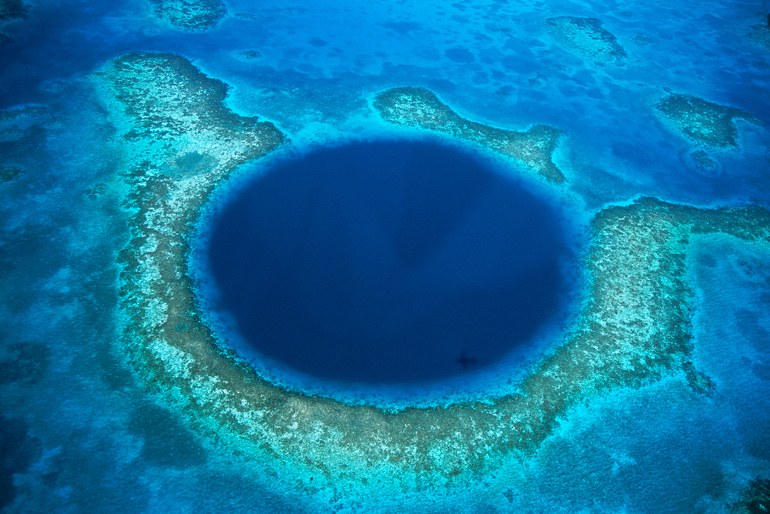 Great Blue Hole, Belize
The Great Blue Hole is a 1,000-foot-wide circular sinkhole in the middle of the atoll off the coast of Belize. This amazing blue reef is surrounded by beautiful coral and shallow turquoise waters with a vertical drop that is more than 400 feet deep. Jacques Cousteau, an ocean explorer, helped make the Great Blue Hole famous in 1971 when it was made one of the best diving sites in the world.
Orange/Red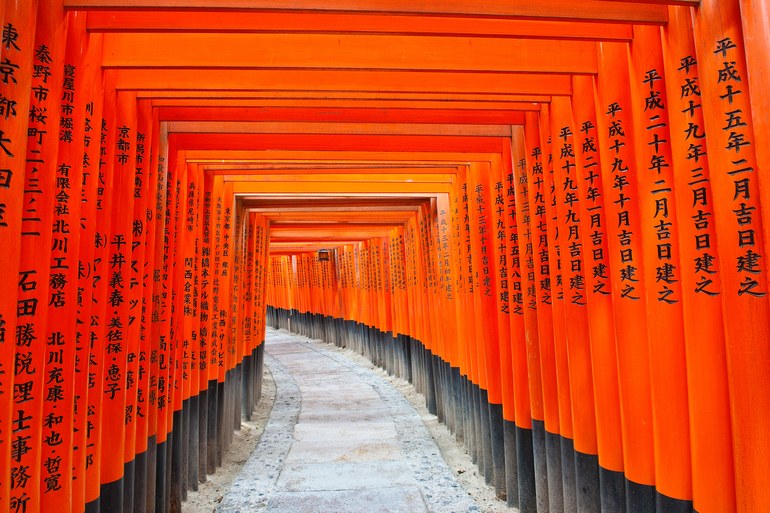 Fushimi Inari Taisha, Japan
Kyoto's Fushimi Inari inner shrine is lined with more than 10, 000 red-orange gates and toriis. Built close together and engraved with the names of those who donated them. These toriis form a colourful canopy for those walking to pay their respects to the Shinto fox spirits. They are hugely popular and totally Instagram worthy. Keep in mind that this shrine is often very crowded.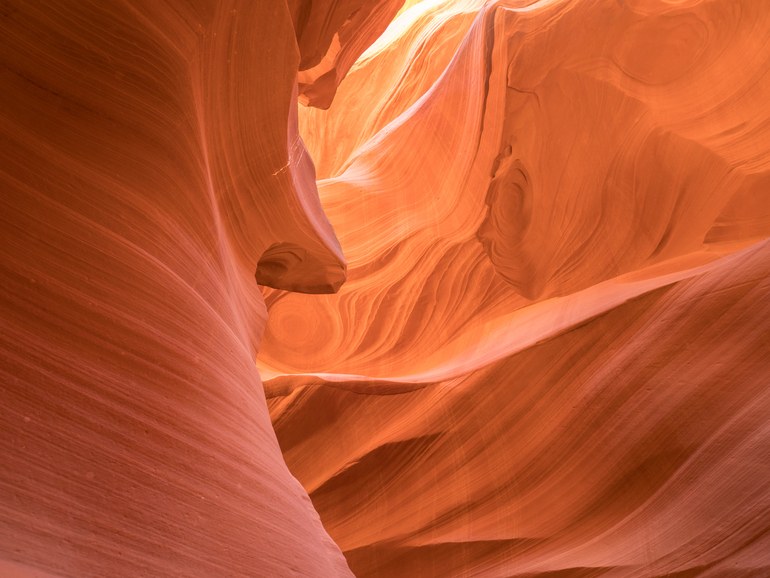 Antelope Canyon, Utah
Antelope Canyon, formerly known as 'The Crack' and 'The Corkscrew' is shaped by erosion of the sandstone, which exhibit swirling striations in the rocks that look like the inside of a beautiful creamsicle. This canyon is embedding deep in eastern Page, Arizona, by Lake Powell.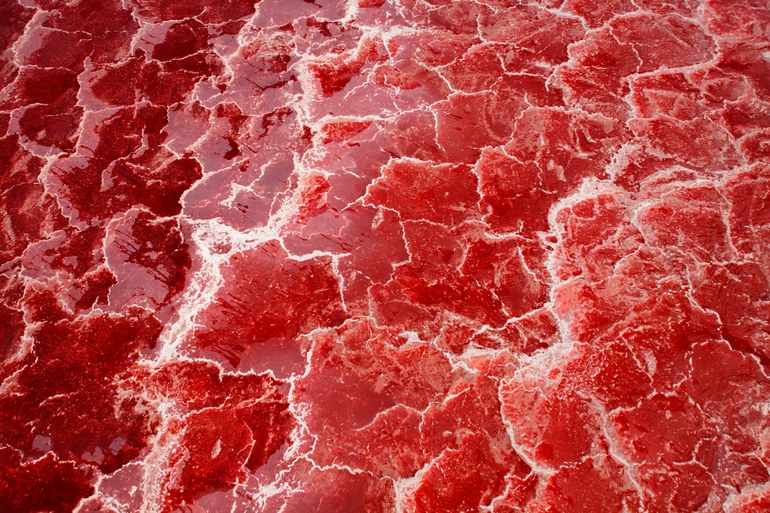 Lake Natron, Tanzania
Near the northern border of Tanzania and Kenya, the deep-red Lake Natron is one of the most unlivable places on earth. It's high in salt content and is about 120 degrees Fahrenheit, and is extremely alkaline so much so that it's pH is about that of ammonia. The only thing that can withstand this lake's conditions is the red algae. This deep red lake is a visual delight but there is no way you would be able to swim in it. Better off taking a drone to see this type of beauty.
Pink/Purple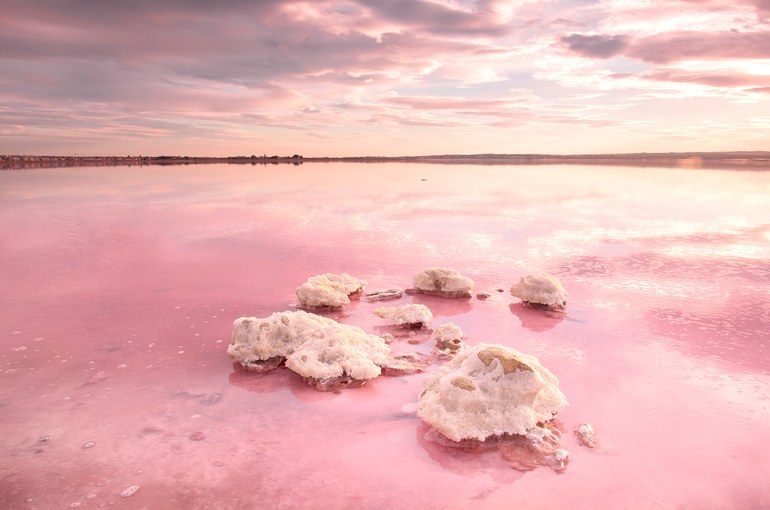 Las Salinas de Torrevieja, Spain
The saltwater lake in Torrevieja, Spain is one of the most delightful mixture of bacteria and algae giving the water a bubble gum pink hue. This lake has a high concentration of salt making it perfect for floating in, unlike Lake Natron in Tanzania. You can even use the underlying mud as a spa mask (or all of your body)! This lake is a pink dream is worth visiting, especially if you have an affinity to the colour pink!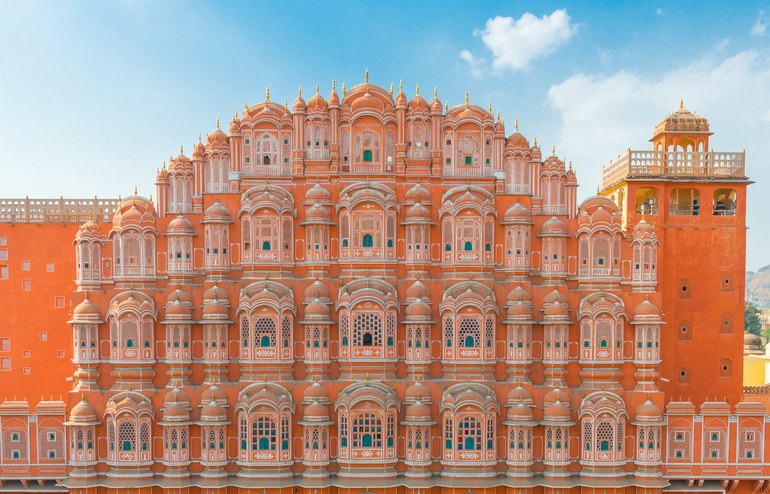 Jaipur, India
Jaipur has been named the 'Pink City' for its painted buildings, though it is more of a really pale peachy terracotta. Jaipur's maharaja at the time, Sawai Ram Singh II, ordered the buildings be painted in this orangey-pink colour in 1876 for a royal visit from Prince Albert and Queen Victoria. Jaipur is one of the most popular places to visit in India.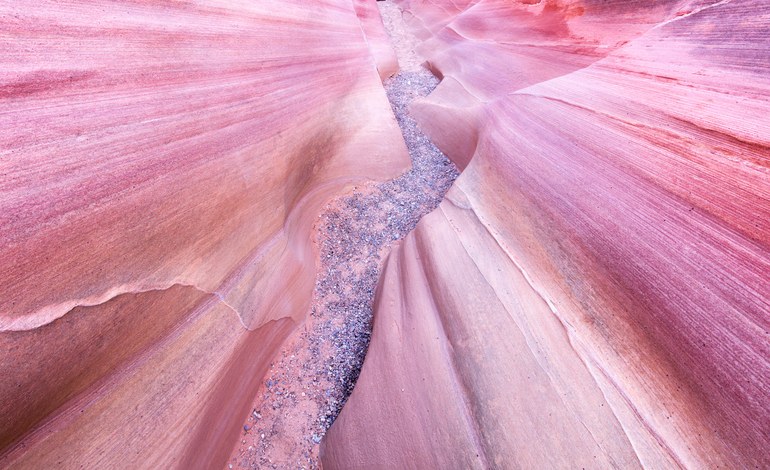 Valley of Fire, Nevada
The Valley of Fire State Park in Nevada is one of the most recommended places in Las Vegas. This drive is 40,000 acres of bright red sandstone and trees along with petroglyphs from ancient civilizations. Well worth the visit and a break from the no-sleep-and-repeat lifestyle of the Las Vegas strip.
Yellow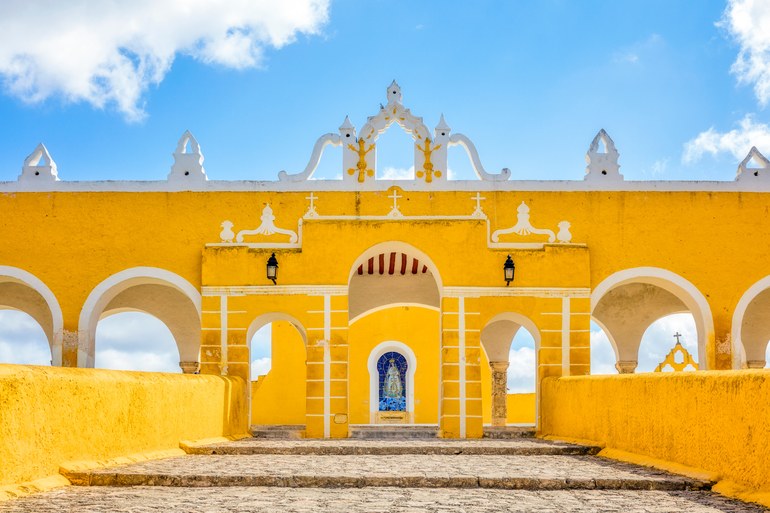 Izamal, Mexico
Izamal is located about an hour east of Mérida and is known for it's mustard yellow and sunny buildings. Almost every building along the town's cobblestone streets is a different shade of yellow. There are plenty of Mayan ruins, including Kinich Kakmó Pyramid which is very much climbable – and not painted yellow!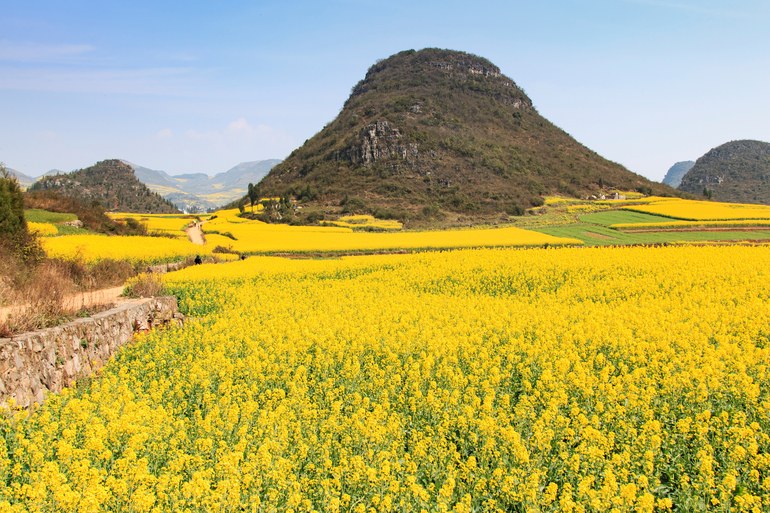 Luosi Field, Luoping, China
The Luosi Fields in China is where canola is planted – where the cooking oil is made. Though this place is hard to get to it is worth visiting where there seems to be an endless sea of yellow flowers. During the blooming season the fields are dotted with beekeepers who set up apiaries for their bees to create honey from the canola's flowers' nectar.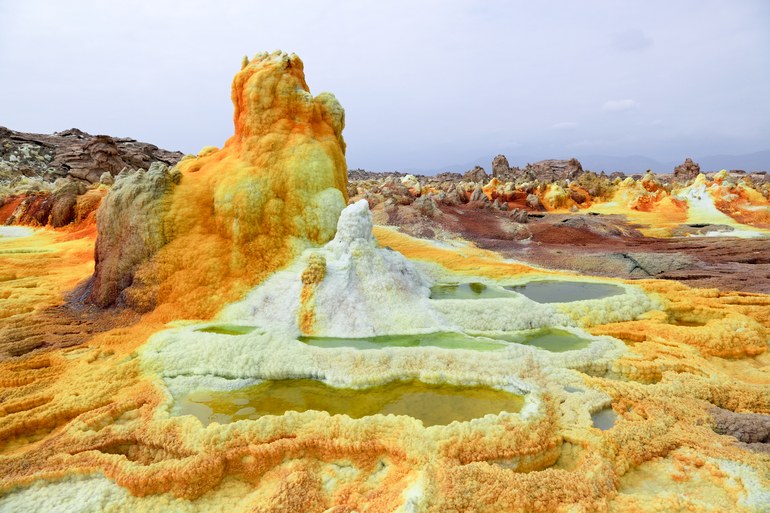 Dallol, Ethiopia
Dallol, near Ethiopia's northern border with Eritrea, is one of the hottest places on earth with volcanoes and geysers. The average temperature is 35 degrees Celsius and consistently hits 46 degrees Celsius in summer. The yellow colour comes from the sulphur and salt reacting.