Europe is full of so many wonderful sights and experiences, from the ancient structures and romance of Rome to the delicious foods in France. With so much to see and do, is it really possible to fit everything in? It all depends on how much time you have for travelling and what your budget is too.

There's also the matter of how you'll travel through Europe to consider. Should you sign up for a hassle free tour experience or would you prefer to make your own way across the continent?

 
The benefits of going on tour
Here are some of the benefits you can expect to receive by taking a tour across Europe:
● Tours are a great way to meet new people, and you'll have instant travel buddies to share your adventures and experiences with if you're not travelling with a friend or partner.
● Everything is planned for you, alleviating hours upon hours of pretrip
planning and stress. Also, they'll ensure you get to experience the best parts of every country!
● What's great about travelling with other like minded people is that you have people around you who will encourage you to try new things. You also have people that you can hang out with when you feel like taking a trip to the museum or go to the nearest pub for a drink.
● Tour guides generally have a much deeper understanding and knowledge of the country you are visiting. They are able to give you insight and information you might not receive otherwise, which can only add to your experience.
Why some people may choose to forgo the tour
Some people don't enjoy taking tours for a number of reasons:
● It can be expensive because of additional costs associated with running a tour business.
● If you fall in love with a particular place, you can't just stay on for a few more days. When you are on a tour, you have to follow their schedule.
● Tours can also be really fastpaced making it difficult for you to be able to immerse yourself in any one town or city.
● Tours can be a little prescripted, so there is often a feeling that they lack adventure.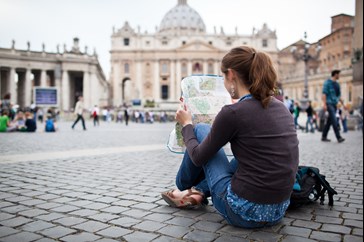 The benefits of making your own way across Europe
Many people like the idea of forging their own path across the continent and solo travel, without the constraints of a tour, does have its advantages.
These include things like:
● Being able to make your own way without the pressure of a tour group allows you to choose your own adventure. You can decide on what you do each day, and you can change your mind if you decide to go a different direction.
● When you are travelling solo you can see what you want to see and when you want to see it, without having a guide or travelling companion to talk through decisions with.
● It's not that difficult to book cheap accommodation and transport on your own. These days you can do everything online, and there are many discount travel websites that make it easy for travellers to grab a bargain. The main thing is to book well before your trip.
Why a tour may be a better option than going it alone
● Europe is wonderful. But if you don't know several languages or have the life experience of visiting certain cities previously, it can be a little daunting and at times stressful. On top of the language barrier, travelling alone certainly isn't everyone's cup of tea. In fact, it can be very isolating.
● If you are constantly having to confirm bookings here and there and have a tendency to get yourself lost, a tour might be a better option for you than going it alone. Not only is it nerve-wracking to get lost in unfamiliar territory, but you can also waste valuable travel time simply trying to figure out how to get yourself back on track.
● Avoiding a tour is great if you want the ultimate freedom to travel solo, but at times when you do want company and people to spend time with to do activities, a tour gives you access to a bus full of holiday goers who are on the same wavelength as you are.
If you are taking a tour, choose the right one for you
Tours are wonderful you just need to make sure you choose one that's suitable for you.
Nowadays there are so many tour operators to choose from, not to mention a number of different types of tours to suit every type of traveller.
If you are a young person wanting to meet like-minded backpackers to travel with, then seek out tours specifically targeted at young people like yourself. Similarly, if you are an older traveler, wanting to experience Europe from a different perspective without the crazy nights out at backpacker hot spots, then look for a tour that's more suited to your tastes.
If you have decided to forgo the tour option and travel Europe alone, simply make sure you're prepared and have your accommodation and travel organised well before you arrive.
Above all, enjoy every moment and have a wonderful adventure!