The details you've provided for your Fast Cover travel insurance policy have been registered with Allianz Global Assistance. This means your travel details are in their database, and they'll be able to provide you with emergency assistance while you're travelling.
Emergency assistance is available 24 hours a day, seven days a week. We provide local emergency assistance phone numbers for a number of countries, otherwise you can call reverse charges to the Emergency assistance team in Australia.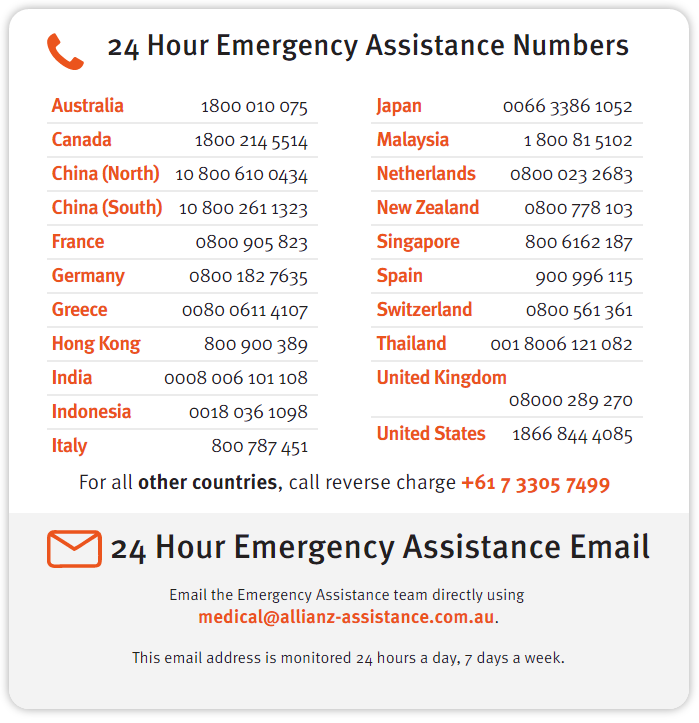 What you should do with your travel insurance policy
1. Ensure your travel insurance policy is easy to access
It's important to have easy access to your travel insurance policy details for the simple reason that it will help you get in contact with your emergency assistance team faster in an emergency. It also means the emergency assistance team will be able to quickly identify you and help you faster.
If you experience an emergency such as becoming seriously sick, being admitted to hospital, injured or having your belongings stolen, it will make contacting emergency assistance easier if you:
a)      Take a few printed copies of your policy
Have a copy in each of your large travel bags as well as a copy in your carry-on or day bag. Having a hard copy can reduce a lot of stress in an emergency. Rather than finding a copy of your policy on your phone or trying to access your emails for the digital copy, it can be easier to grab the policy certificate from your bag. This can make emergencies situations easier, including:
Having to provide your policy details to hospital staff
Providing your policy details to medical staff on a cruise ship
Finding the emergency phone number in areas where there's no WiFi to access your emails or Dropbox
If you're not conscious, or otherwise unable to provide your policy details, it will be easier for people around you to contact your emergency assistance team if they can easily find your printed travel insurance policy
b)      Take digital copies of your travel insurance policy
You should also have digital copies of your travel insurance policy so you have options for accessing your policy details.
You can keep a copy of your travel insurance policy:
Flagged in your emails
In Google Drive, Drop box etc
As a screenshot on your mobile phone
2. Share copies of your travel insurance policy
Consider sharing your travel insurance policy details with your travelling companions, close family members, friends or partner.
There's a couple of benefits to doing this, including:
It will make it faster for family or friends to communicate with your travel insurer about your policy
They can help you to extend your travel insurance policy on your behalf while you're travelling
They're able to help you to add on extra cover, such as for rental vehicle insurance excess and adventure sports or activities
It gives your family and closest friends the ability to follow up on a travel insurance claim, if you have given Allianz Global Assistance permission to speak with them about it.
3. Use your travel insurance if you experience an emergency
 a)      Seek assistance
If you're sick, injured, or the victim of robbery, seek assistance immediately and without hesitation. This may involve asking for assistance from your hotel or hostel manager, visiting a police station to make a report, seeing a doctor, going straight to a hospital or asking a stranger for help. Once you're safe and have support you can follow the next steps.
b)      Contact Emergency Assistance
Call your emergency assistance team. They're able to assist in various ways, including:
Managing your case in hospital
Organising your emergency transport home
Providing advice
Getting in contact with your family or employers
Providing translation services
4. Make a travel insurance claim
With your policy, you can make a claim for any unexpected emergency expenses that resulted from an incident. You can do this online or calling 1300 409 322 and mailing the required documents to the claims team. This can be done during your trip or upon your return home.
Find out more about how to make a travel insurance claim.
Other ways you can prepare for your holiday
There are a few more things you can do to better prepare for health and safety risks you may face while travelling.
Register with Smartraveller – this will help the Department contact you or find you in an emergency.
Use Facebook's Safety Check – this tool will allow you to let your friends and family know you're safe if you're in an area affected by a major disaster; you can also check up on other friends.
Fill in your Medical ID on your mobile phone – iPhones for example allow you to make important health information accessible by setting up a Medical ID. Provide information about the medication you take and conditions you have by editing the Medical ID. You may also be able to set up an 'in case of emergency' or 'ICE' contact.
You can read more tips on preparing to travel here or, read more of Fast Cover's safe travel tips.
Fast Cover Pty Ltd ABN 98 143 196 098 AR No.381399 arranges this insurance as an authorised representative of AGA Assistance Australia Pty Ltd, ABN 52 097 227 177, AFSL 245631 trading as Allianz Global Assistance. Travel Insurance is issued and managed by Allianz Global Assistance as agent of the insurer Allianz Australia Insurance Limited ABN 15 000 122 850 AFSL 234708. Terms, conditions, limits and exclusions apply. We do not provide any advice on this insurance based on any consideration of your objectives, financial situation or needs. You should consider the Combined Financial Services Guide and Product Disclosure Statement (including policy wording) available on this website before buying this product to decide if this product is right for you. If you purchase a policy, Fast Cover receives a commission which is a percentage of your premium - ask us for more information.