Fast Cover embraces this freedom by changing the way something has always been done.  Our goal is to make Travel Insurance simple and de-complicate the whole process.
With a million things to organise before you travel, the process of buying your Travel Insurance should be fast and simple. Fast Cover set out to achieve this when we launched in 2010 and is what we deliver every day.
We want you to travel with confidence knowing you are covered by a high quality policy. This is why all Fast Cover policies are underwritten by the financial strength of Allianz.
This partnership extends to Allianz Global Assistance, one of Australia's leading providers of emergency assistance. If the unexpected should happen whilst you're exploring the world, rest assured that expert assistance is available 24 hours a day, seven days a week.
History
In 2010, Fast Cover was created with the vision of providing quality travel insurance that not only offered cover which travellers actually needed, but was also simple and easy to understand.
We completed extensive research to work out the best way to achieve that vision.
The fruits of that research were:
We partnered with Allianz who are one of Australia's largest general insurers.
Our affiliation with Allianz Global Assistance helped ensure all our travellers had access to their worldwide emergency assistance network 24 hours a day, 7 days a week.
Through our relationship with Allianz Global Assistance, we were confident that our travellers would be able to travel with more peace of mind, knowing that they had access to assistance should they ever need it.
Making sure our website was easy to read and use, so that travellers can apply for their travel insurance quickly, and get back to their packing and booking the fun things.
Of course, we also understood that sometimes travellers just wanted to talk to someone, so we also offered a phone service which they could call and talk to us if they had any queries or problems. We have call centres based in New South Wales and Queensland.
And based on the huge response we got, we think we did some pretty amazing research!
This was us in the early days!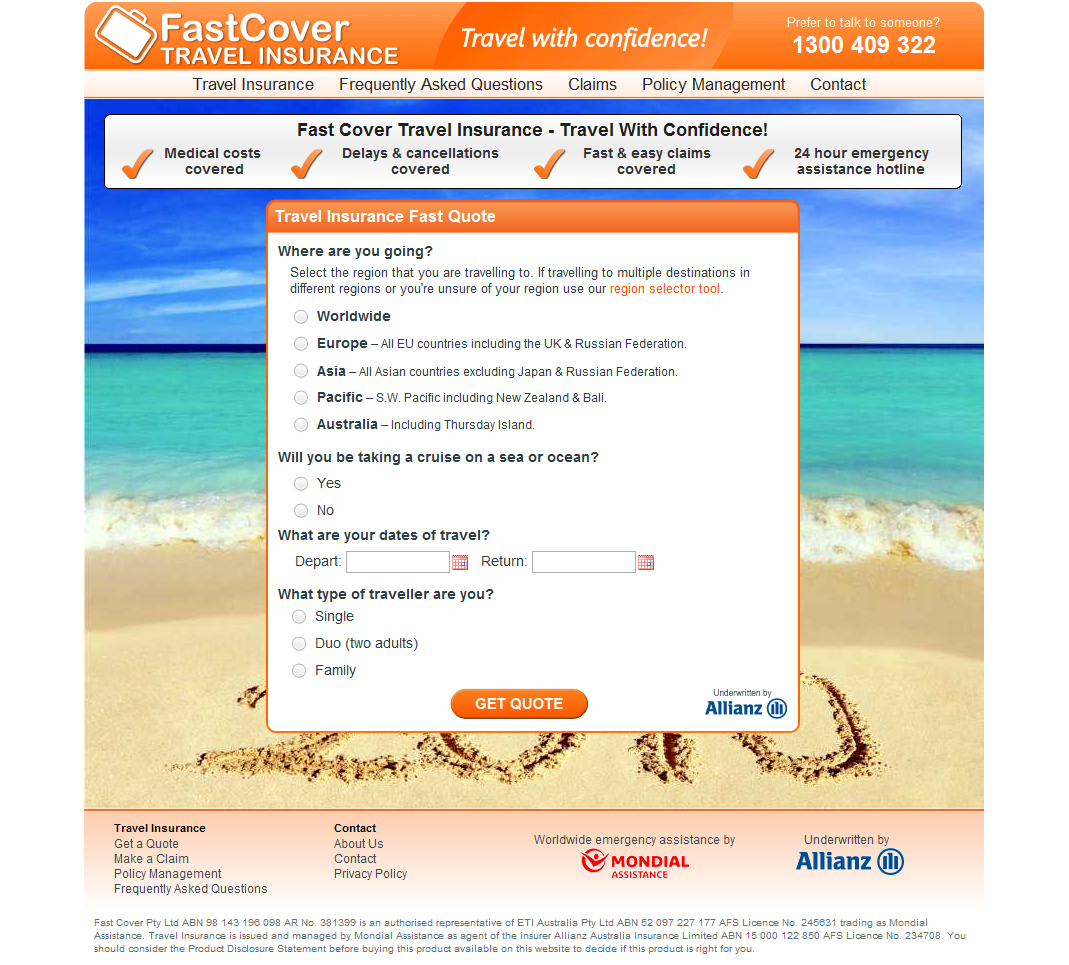 It's been a while since those initial days - we've grown up now, we're still going strong, and our call centres are still based in Australia!
We've changed our logo and we've also changed our website, making it even easier for travellers to buy travel insurance with us - but our impressively low prices, exceptional service and great policy coverage are still there!
We aren't going to be complacent about our achievements though, we're always looking for ways to:
Make travel insurance faster to buy, get assistance and claim. 

Make travel insurance simpler to buy, seek assistance and claim

Provide great service

Provide great value travel insurance

Tailor insurance to your needs
So keep checking in with us whenever you're thinking of travelling – we've got a range of policies that may suit your needs!
About Allianz Global Assistance - our chosen
Emergency Assistance provider
One of Australia's leading providers of emergency assistance. With a team of over 12,000 people working in 34 countries - they can always be close and connected to the people they assist.
Specialist team of doctors, registered nurses, case managers and support personnel
Available to help 24 hours a day, seven days a week.
More than 500 doctors and medically qualified employees
Supported by an international network of 400,000 high quality, certified service providers and 180 international correspondents.
Established global network of over 1600 medical specialists, including air ambulance services.