Our Mission
Fast Cover embraces this freedom by changing the way something has always been done.
With a million things to organise before you travel, the process of buying your travel insurance should be fast and simple.
Fast Cover set out to achieve this when we launched in 2010 and is what we deliver every day with our excellent service, user-friendly website and simplified Product Disclosure Statement.
Our Policies
We want you to travel with confidence knowing you are covered by a high quality policy.
This is why all Fast Cover policies are underwritten by the financial strength and integrity of Hollard Insurance, a trusted brand who also underwrite major Australian companies like Woolworths Insurance, Medibank and RSPCA Pet Insurance, and is trusted by over 7 million people worldwide.
Fast Cover travellers can also rest assured knowing they have the support of our 24 hour Emergency Assistance team, anywhere in the world.
If the unexpected should happen whilst you're travelling, expert travel advice and emergency assistance is available 24 hours a day, 7 days a week, 365 days a year.
Our History
In 2010, Fast Cover was created with the vision of providing quality travel insurance that not only offered the cover travellers actually need, but that was also simple and easy to understand.
We completed extensive research to work out the best way to achieve that vision and then got to work:
Making sure our website was user-friendly.
Ensuring the information was easy to read and understand.
Making the quote and purchase process as fast and simple as possible, so travellers can get back to packing and booking the fun things.
Of course, we also understood that sometimes travellers preferred to talk to a real person, so we also offered a phone service which they could call and talk to us if they had any queries or problems.
And, based on the huge response we got, we think we did some pretty amazing research!
This was us in the early days: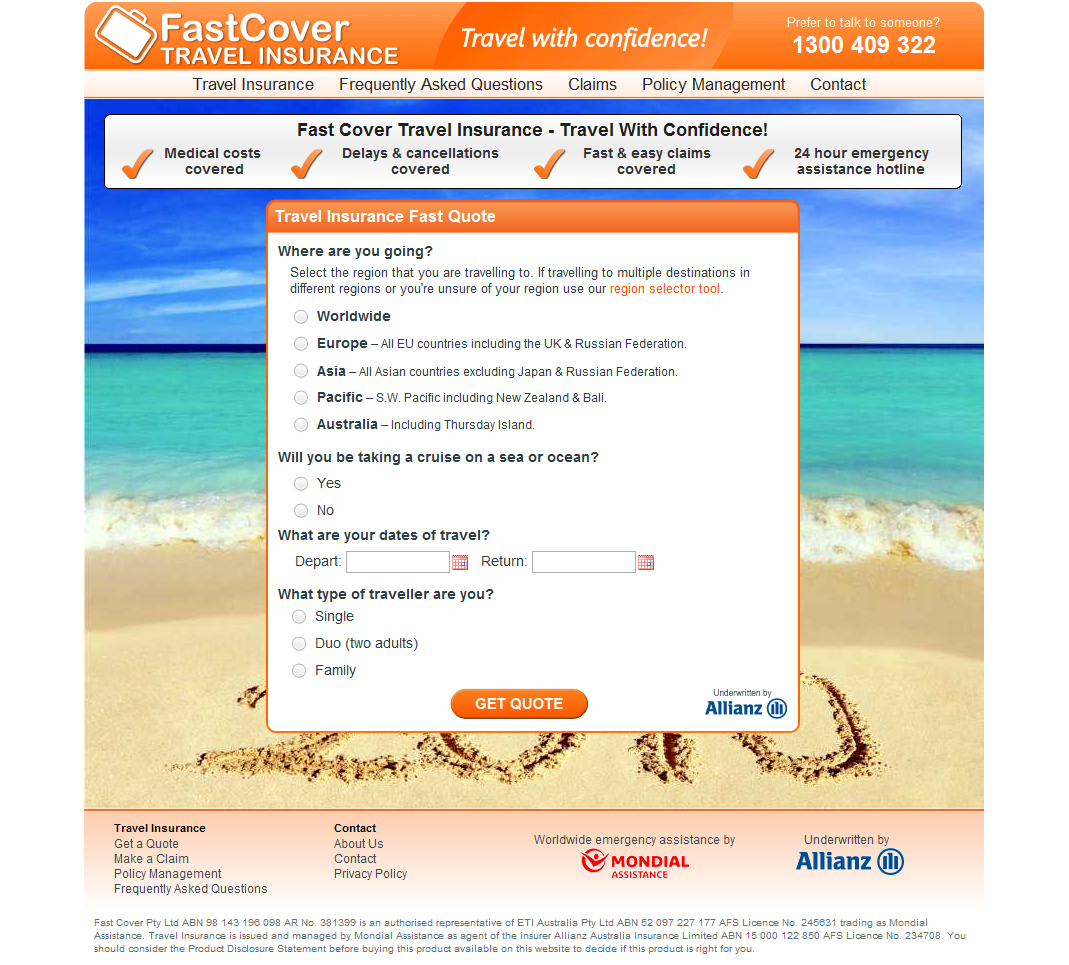 It's been a while since those initial days. We've grown up now, we're still going strong, and our call centres are still based in Australia!
We have call centres based in Sydney and on the Gold Coast, staffed by friendly travel insurance specialists.
We may have changed our logo and updated our website to make it even faster and easier for travellers to buy travel insurance with us, but our competitively low prices, exceptional customer service, and great policy coverage are still here!
We aren't going to be complacent about our achievements though, we're always looking for new ways to:
Make travel insurance a community product that serves everyone.

Make purchasing travel insurance faster and simpler than ever before.

Make it faster and easier to access emergency assistance.

Make the claims process faster and simpler.

Tailor insurance to the needs of our travellers.

Provide outstanding customer service.

Provide great value travel insurance.
So keep checking in with us whenever you're thinking of travelling. We've got a range of policies to suit all traveller types, ages and budgets!
Key Information

Company Name

Fast Cover Pty Ltd
ABN

98 143 196 098
Authorised Representative Number

AR No. 381399
Head Office

Level 31
31 Market Street
Sydney NSW 2000
Underwriter Company Name

The Hollard Insurance Company Pty Ltd
Underwriter ABN

78 090 584 473
Underwriter Australian Financial Services Licence Number

AFSL 241436