We know that planning a holiday is exciting, but isn't always easy and can be very time consuming. That's why at Fast Cover, we're always looking at ways to make things faster and simpler for you when it comes to travel insurance.
And we're not just talking about researching and buying your travel insurance – we're talking about your whole experience. Making a claim is definitely something every traveller hopes they don't have to do, whether it be during your holiday or after. But if you really do need to make a claim, we think it should be an easy process.
We've been working hard with our underwriter Allianz and are very pleased to announce that our new Online Claiming website has just been launched!
You can now make a claim whenever and wherever you want – so no more checking business hours or time zones. Whether you're still overseas or back home, on the train, in the middle of the night or on the weekend – it doesn't matter - submit your claim 24/7!
You'll still need all the relevant information and documentation to support your claim, but once you've uploaded all the information and documentation, submit it and it's lodged.
To make an online claim, simply go to www.travelclaims.com.au to start your claims process.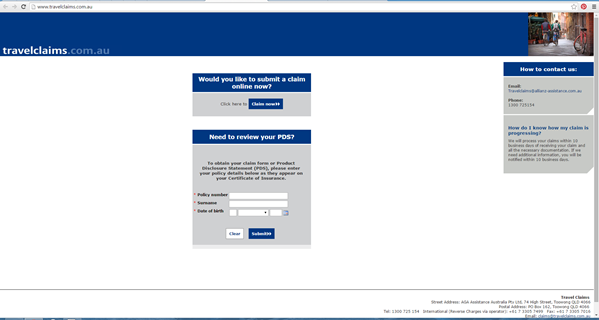 So there are now 3 ways to make a claim: 
Go Online
Download our Claim form and post your completed form
Call 1300 725 154
We want to make things easier for you. So whichever way you choose to lodge your claim – we're always happy to process them!
Of course, the Claims department are still there to assist if you have any questions or need assistance with your claim.
You can contact the Claims team by:
Phone: 1300 725 154
Email:    travelclaims@allianz-assistance.com.au
Fax:        (07) 3305 7016
Post:      Fast Cover Travel Claims Department
              Locked Bag 3038
              Toowong QLD 4066