The way we celebrate Christmas depends a lot on our culture, our climate and our geographic location. So, if you're travelling overseas this festive season, here are four of the best places in the world to visit at Christmas time. Each has its own unique personality and its own way of celebrating the most magical time of the year.
Vienna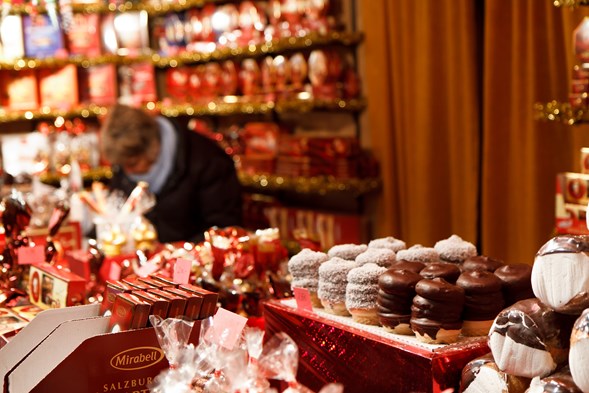 Vienna is what traditional Christmases are made of. Glorious old Gothic buildings, decorated fir trees, snow on the ground and music in the air; Vienna is as much a celebration of winter as it is of Christmas.
A must-do in Vienna is the Christmas markets (Christkindlmarkts). Held since the Middle Ages, these traditional street markets are a wonderful way to pick up unique handicrafts, sample traditional Viennese foods such as sausage, sauerkraut and apple strudel, and to be entertained with live music and carol singing in the streets.
Dozens of Christmas markets are held all across the city, including those at the world-famous Belvedere and Schönbrunn Palaces, where the bustling, frosty-breathed crowds moving against such awesome backdrops take you back in time to the Christmases of long ago.
Vienna is home to Mozart and all things classical, so taking in a concert, opera, ballet or play is also a good Christmas idea. Other attractions include museums, art galleries, coffee houses and restaurants and ice skating is a particular treat on one of Vienna's beautiful outdoor ice rinks.
Lapland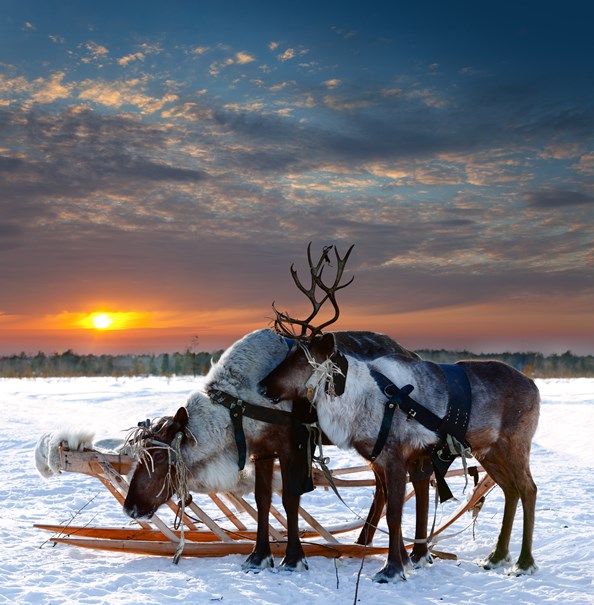 After your taste of a Viennese white Christmas, it's time to saddle up the reindeer and head north to the Arctic Circle for the ultimate Christmas experience: a visit to the official home of the Man in Red, the famous Santa Claus Village.
Situated in Rovaniemi, Lapland, Santa greets children here every day, while supervising his gift manufacturing and distribution empire at the top of the world. Audiences with Santa are exclusive to one family at a time and bookings are of course essential.
While Santa will be the focus of such a trip for most children, there are plenty of other Nordic adventures the whole family can enjoy in this chillingly beautiful part of the world. These include reindeer and wolf safaris, husky and snowmobile adventures, cross-country and downhill skiing and excursions to see the famous Northern Lights, which light up the night sky in incredible colours.
Another must-do in Lapland is a night at the Ice Hotel. Made entirely from snow and ice, the hotel features an ice bar where vodka is the drink of choice, a fine restaurant where you can dine on delicacies such reindeer and elk, and a selection of saunas to keep the cold at bay.
Accommodation ranges from basic 'snow rooms' right through to deluxe ice suitescontaining ice beds, ice furniture and beautiful ice carvings by local artists.
Bondi
And now for a complete change of pace. If you're used to cold weather at Christmas time, you will really warm to this: a traditional Christmas down-under at Bondi in Sydney, Australia.
An Aussie Christmas Day typically begins with the unwrapping of presents in the morning. This is followed by a family trip to the beach and then home again for the midday feast, which consists of either traditional turkey with all the trimmings, or the more Aussie alternative of a seafood extravaganza.
At the beach, the sun is hot, the water is warm and the sand is crowded with Christmas revellers, soaking up the rays or catching a wave in the big Bondi surf.
Every year, Bondi Beach hosts an unforgettable Christmas Day Party. Known as Sunburnt Christmas, it features three separate sound stages and dozens of local and international music acts, who entertain thousands of party-goers from 2pm to 10pm.  
A trip into Sydney city is also essential when you're staying at Bondi, with the Sydney Opera House, Sydney Harbour Bridge and Circular Quay all unmissable attractions. There's also the start of the Sydney to Hobart Yacht Race to see on Boxing Day, and on New Year's Eve you'll see one of the world's most spectacular fireworks displays on Sydney Harbour.
New York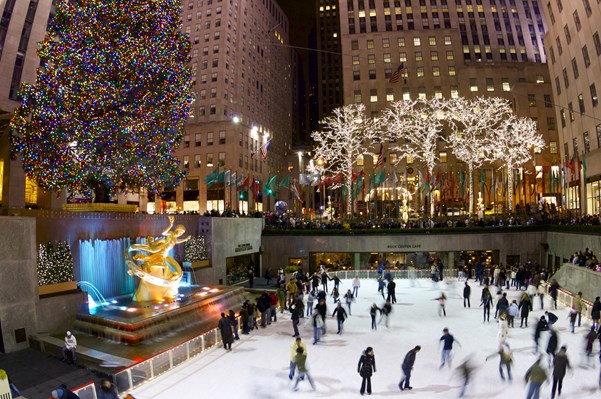 If you're headed stateside rather than down-under this festive season, Christmas in New York is a magical way to see out the year. There are just so many things to see and do, you'll need to be highly selective to try and get just a taste of the best.
These include the giant Christmas tree in Rockefeller Centre Plaza, now with an incredible 30,000 lights; Central Park's iconic open-air ice skating rink; the indoor ferris wheel at Toys'R'Us in Times Square; Santaland at Macy's department store, where 'Miracle on 34th Street' was filmed; and the enchanting Holiday Train Show at the New York Botanical Gardens.
Everyone who visits New York also has to see at least one show. Christmas offerings include St John the Divine's Winter Solstice and Radio City Music Hall's Christmas Spectacular.
Other attractions include the Empire State Building, the Statue of Liberty and the dropping of the Big Ball in Times Square on New Year's Eve.
The other absolute must-do in New York is shopping, with everything at your fingertips from holiday markets at Bryant Park and Union Square to department stores and upmarket boutiques, all decked out for Christmas and ready for some serious retail therapy.
So where would you rather be this Christmas?  
Spending Christmas overseas is not for everyone. For many, the best part of the holiday season is celebrating at home with family and friends.
But if you have an adventurous spirit and a desire to see how others spend Christmas around the world, then you really owe it to yourself to check out these four uniquely different Christmas destinations.